Why White is Right for Your Kitchen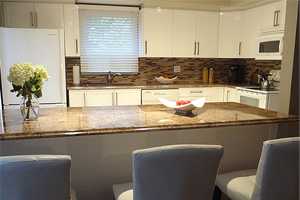 If you're ready to makeover your kitchen, you're likely pinching your pennies, ready to drop some serious cash. Kitchens, after all, are the most expensive room in the house to renovate. So, how do you keep your new kitchen from bottoming out your bank account? Make it white, say Anthony Kelly and Chris Volpe, owners of Affordable Kitchens.ca, a Toronto-based company that specializes in white kitchen designs.
White kitchens have surged in popularity, especially in condos and apartment buildings. 80 percent of the kitchens made with MDF thermofoil-wrapped doors – the material Affordable Kitchens.ca uses – are white.
There are a number of reasons for the popularity of white kitchens:
White makes kitchens feel spacious.
"Condos and apartments are building kitchens much smaller now," says Kelly. Using dark colours in a kitchen this size makes them feel very cramped and tiny. "A white kitchen makes the space look so much bigger," says Kelly. Many of Kelly's customers who have had dark-coloured kitchens renovated to white kitchens are shocked at how much larger and brighter their kitchens look. White is also a refreshing colour, making the space feel light and airy.
White never goes out of style.
Trends come and go, but white kitchens have withstood the test of time. While you may assume white kitchen cabinets require too much maintenance as they can show dirt and stains easily, thermofoil material makes white kitchen cabinets maintenance-free. In the process of thermofoil, a thin layer of vinyl is applied to MDF doors, creating a non-porous durable surface that can be wiped down with a wet cloth or sponge.
White is the ultimate design tool.
As the most neutral colour on the spectrum, white goes with anything, allowing homeowners to change the look of their kitchen as quickly as their mood flips. White cabinets will go with any countertop, backsplash and paint colour.
A white kitchen can save you money.
Although thermofoil comes in a variety of colours, white is the least expensive. "A white kitchen can easily cost half the price of a colour kitchen," says Volpe. Most cabinets, even when done in colour are made white on the inside, in order to cut costs. Full-coloured cabinets made with colour on the inside can cost two and a half times the price of a white kitchen. 10 x 10 Affordable Kitchens.ca' white kitchen designs start at $1695.