Our Toronto Kitchen Cabinets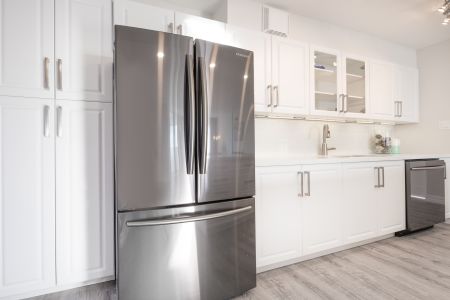 At Affordable Kitchens we specialize in white raised panel kitchen cabinets and bathroom cabinetry for both residential and commercial application that offer:
Exclusive dowel and groove construction; 5/8 back construct system
Superior rigid strength and tight fitting joints
Finest premium quality thermal foil wrapped doors
Cabinet width sizes – 9 to 42 inches [3 inch increments]
Full metal box sliding drawer systems; 5/8 inch thick solid bottoms and backs
Solid 5/8 Inch cabinet backs and 1 inch thick rails for additional strength
Our cabinets are exceptionally priced because:
We specialize in one colour – white raised-panel door (additional profiles and styles available)
Complete In-Stock Inventory available
Download our Cabinet Size List (PDF)
---
Cabinets We Provide in the Greater Toronto Area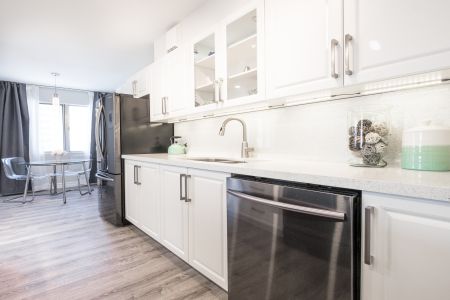 Our Toronto kitchen cabinets are perfect for residential customers seeking to improve the look of their kitchens without breaking their budget. Our high quality, half-priced white kitchen cabinets make kitchen remodeling easier, and enhance the beauty and function of the kitchen with their superior construction. We also have a variety of cabinetry available for homeowners seeking bathroom cabinets or other storage solutions.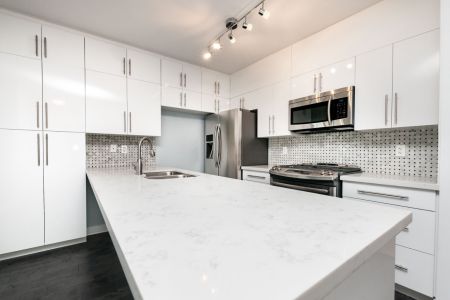 While our Toronto kitchen cabinets company specializes in white kitchen cabinets for homeowners, businesses throughout the Greater Toronto Area also turn to us for their cabinetry needs because we offer such incredible prices for high quality cabinets. Whether you are in need of sleek, modern storage cabinets or affordable kitchen and bathroom cabinets for your commercial project, Affordable Kitchens.ca has what you need.