Toronto's Finest Kitchen Cabinets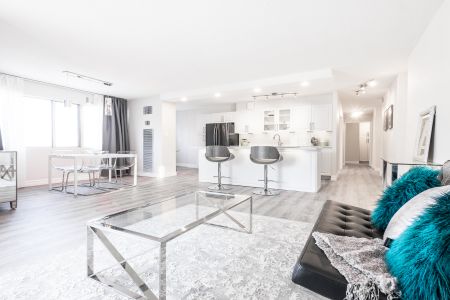 Cabinetry is an integral part of any home's kitchen. Your kitchen cabinets are not only necessary space for storing your pots, pans, nonperishable foods, and more, but they're also a major focal point that helps tie your kitchen together aesthetically. Every Toronto kitchen deserves a quality set of well-made kitchen cabinets from Affordable Kitchens. Our strong, well-made white raised-panel cabinets come in 157 sizes, to suit any size kitchen with any type of layout.
Advantages of Our White Kitchen Cabinets
Our ready-to-order, raised-panel white kitchen cabinets at Affordable Kitchens offer a range of beneficial features for Toronto homeowners who don't want to sacrifice quality for economy:
Exclusive dowel and groove construction
Tight fitting joints
Superior strength
Thermal foil wrapped doors
Wide range of cabinet width sizes, from 9" to 42"
Full metal box sliding drawer systems
"Soft Close" doors and drawers
Installation Available
Since Affordable Kitchens specializes specifically in white raised-panel door kitchen cabinets, our cabinetry is available on demand at unbeatable prices.
Why White is Right for Your Kitchen Cabinets
At Affordable Kitchens, we specialize in white kitchen cabinets, because the color white works incredibly well with almost any Toronto kitchen. White cabinets can make a small kitchen feel light, airy, and open. The color white can really help to open up the visual space so that your kitchen will never feel overly cramped or constricted. White is also versatile in terms of interior design. White is the most neutral color, leaving nearly endless possibilities for you to design around it to really customize your space.
Well-Made Cabinets at Below-Market Prices
Our white kitchen cabinets at Affordable Kitchens are an unparalleled bargain for quality cabinetry in Toronto. Our cabinets often cost as little as half the price of premade cabinets from big-box stores, and you'll also get a better quality of construction. Our goal is to provide all our clients with economical solutions for all their kitchen cabinet needs, so you'll never have to sacrifice good construction due to pricing limitations.
Call Affordable Kitchens today to find out more about our economical, versatile white kitchen cabinets. Or, visit our showroom to see for yourself.