Affordable Cabinet Replacement in Toronto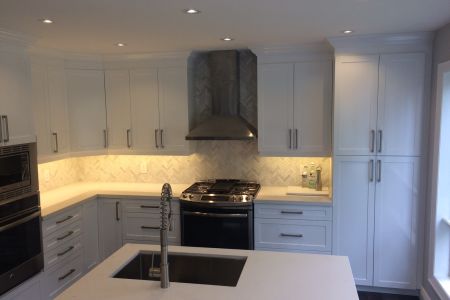 Looking for cabinet replacement, but faced with a limited budget? Affordable Kitchens has a great selection of white kitchen cabinets in a range of sizes for your kitchen, bathroom, or elsewhere in your home. Finding quality cabinets can be difficult when you don't have unlimited money to spend, but Affordable Kitchens is Toronto's leader in excellent cabinetry at unbeatable prices. Cabinets are an indispensible feature of your home, and when your old ones are damaged beyond repair, you need to replace them quickly—but without compromising quality. Our signature white cabinets come in a wide range of sizes to fit any room's layout, and all are available at prices you won't find elsewhere.
Cabinet Replacement: Don't Sacrifice Quality for Economy
At Affordable Kitchens, our ready-to-order white raised-panel cabinets look great in any home. Finally, you can find the storage space you need at prices you can deal with. Our quality cabinetry offers a range of great features, including:
Dowel and groove construction
Thermal foil wrapped doors
Tight fitting joints
Strong construction
Full metal box sliding drawer system
"Soft close" doors and drawers
A wide range of sizes, from 9" to 42"
Professional installation
And more
Our sturdy white cabinets come in unbeatable prices, and for cabinet replacement on a budget, our cabinetry is Toronto's best.
White Works in Every Home
No matter what décor you like, our white cabinets can complement any home's interior. White isn't a limitation, but a blank canvas giving you infinite reign to design and decorate around it. It's especially good for smaller homes, where the light color creates an airy, spacious feel that really opens up a space that might otherwise feel tiny and constricted.
Toronto's Finest Cabinet Replacement
Affordable Kitchens offers prices for cabinet replacement that no one else can match. You could end up spending only half what you'd have spend on cabinets from a big-box store, and you'll also feel confident knowing you haven't had to sacrifice quality craftsmanship despite your fiscal limitations. Call us today to find out more about our quality white cabinets in a range of sizes. Or, visit our spacious showroom to see our cabinets for yourself in person.
If you are looking for Replacement Cabinets in Toronto
then please call (416) 755-6600,
or visit our showroom.