Cheap, Versatile Bathroom Cabinets from Affordable Kitchens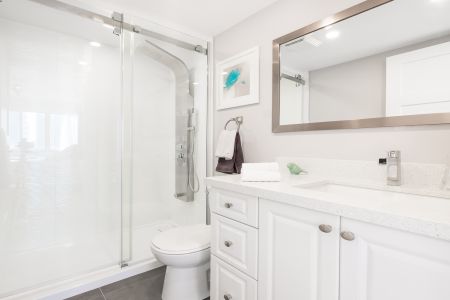 Our white cabinets aren't just great for kitchens, they're also a great choice for quality Toronto bathroom cabinets at attainable prices. A bathroom without cabinets is a major inconvenience, but when it comes to cabinetry for this small but indispensible space, many homeowners don't want to break the bank on anything too expensive. Our signature white cabinets are an excellent choice for price-conscious Toronto homeowners in need of quality bathroom cabinets. They come in a range of sizes to fit your space, and the airy white color works well with almost any interior decoration and color scheme.
Affordable Bathroom Cabinets for Your Toronto Home
At Affordable Kitchens, we specialize in ready-to-order, white raised-panel cabinets that work great in any bathroom, giving you much-needed storage space at convenient prices. Our cabinets offer a wide range of features you'll love; with Affordable Kitchens, you'll never have to sacrifice quality for affordable pricing.
Tight fitting joints
Exclusive dowel and groove construction
Thermal foil wrapped doors
Superior strength of construction
Full metal box sliding drawer systems
"Soft close" doors and drawers that won't slam shut
Cabinet sizes ranging from 9" to 42" (in 3-inch increments)
Professional installation is available
Our cabinetry is available at unbeatable prices, since we specialize in one color: pure, versatile white.
White: A Great Color for Your Bathroom Cabinets
Why white? You may think that white would limit your design options, but that's where you're wrong. White is the most neutral color there is, and it's great for bathrooms since it makes a small space feel more airy and open than it is. You'll love our quality white cabinets, and it may even help your tiny bathroom feel a lot more spacious.
Quality Cabinets at Attainable Prices
At Affordable Kitchens, we offer high-quality bathroom cabinets at prices you won't find anywhere else. You could end up paying as little as half of what you'd pay at a big-box store. Plus, you'll be assured of a better quality of construction. With Affordable Kitchens, you won't have to compromise on quality when it comes to your bathroom cabinets, even on a limited budget. Call us today to find out more, or pay a visit to our extensive showroom to see for yourself.