When Should You Replace Your Kitchen Cabinets?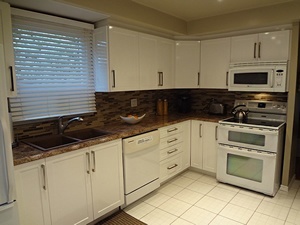 Keeping your kitchen in great shape is one of your biggest priorities as a homeowner, but it's never an easy job. Every part of your kitchen is used daily, and no other part of your home has as much traffic or experiences as much wear-and-tear. Your kitchen cabinets are a very important part of the comfort, functionality, and appearance of your kitchen, so keeping them in great shape is very beneficial, even when they require refacing, refinishing, or restoration services. Eventually, though, you will need to have your cabinets replaced, and replacing them is often your best option.
At Affordable Kitchens.ca, our professional Toronto cabinet experts can help you decide whether a cabinet replacement is right for your kitchen, and we can help you select the perfect materials for the job, then provide you with a great installation. Many homeowners begin restoring original cabinets, and get 70% through the project before wishing they had just replaced the
How Long do Kitchen Cabinets Usually Last?
Depending on the quality of the wood of the cabinets that you purchase, the quality of the installation, and the amount of wear-and-tear the cabinets need to withstand, the amount of time that cabinets last will vary. In general, however, quality cabinets will last for around 50 years, according to the National Association of Homeowners.
If you're going to be replacing other parts of your kitchen, it may make sense to replace your cabinets sooner than 50 years, and there are other signs that can mean you should have your Toronto home's cabinets replaced.
Top Signs That Your Cabinets Should Be Replaced
If you have any of the following problems with your cabinets, you should probably replace them instead of refacing them:
Excessive moisture can cause serious damage to your cabinets, and it's likely that repairs and restoration services won't be adequate. Wood can be damaged by water very easily, and it kitchens, it's a fairly common occurrence.
If your cabinets feel soft to the touch, it's a sign that they are badly damaged and may soon start to fall apart. This is a problem with the structure of the cabinets, and you won't be able to take care of it with simple aesthetic changes.
Mold growth is very common in cabinets, and if the problems isn't caught early on, it will quickly spread and do tons of damage. Not only can mold compromise the general integrity of your cabinets, but also large quantities of mold can also be a detriment you and your family's health.
If you're looking for cabinet replacement services in Toronto,
call Affordable Kitchens.ca at (416) 755-6600,
or visit our showroom.