Maximize Efficiency with the Right Toronto Kitchen Cabinets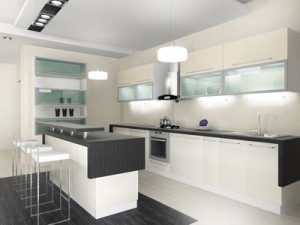 Choosing the right kitchen cabinets for your Toronto area kitchen can ensure that your cooking space is kept clutter-free, certainly, but the right cabinetry also offers many other perks. With the right type and style of Toronto kitchen cabinets, you can ensure your kitchen is organized, keep clutter out of sight, and provide your home with a boost of style and beauty. Some cabinets even have display-style construction, providing homeowners with a chance to display lovely pieces of china for added decoration.
The modern-day kitchen has become one of the favorite places for family members and friends to gather together while preparing or enjoying meals. It can certainly come alive with the right design coupled with the perfect combination of kitchen furnishings and cabinetry, too.
If you live in a spacious high-rise dwelling and you have a long multi-purpose kitchen counter underneath sleek lighting fixtures plus ultramodern appliances with stainless steel construction, your Toronto kitchen cabinets should also offer a streamlined look to compliment the modern tone of your home. Choose kitchen cabinetry that has sleek lines and smooth surfaces.
To create a clean and uncluttered look for your kitchen, always choose color concepts that are elegant and timeless. Most homeowners prefer a lot of white (flooring, walls, tables, appliances and cabinetry), coordinated with some shades of wood plus stainless steel and granite details in their kitchen. For a family home, a white kitchen that is complemented by warm and light hues like brown, blue, green, orange and yellow (perfect for a country-style kitchen) appeals to most design sensibilities.
Another approach that Toronto kitchen cabinets manufacturers often use is creating symmetrical balance. For example, a long kitchen island may be placed in a central position and a balanced design that includes top and base cabinets with drawers is created in semi-circular position around it. Note that this is the age of silent, self-closing cabinets which can withstand dust, and homeowners can change and add items as they wish, freeing up space and keeping the kitchen environment clean.
With a small working kitchen, long wall-mounted upper kitchen cabinets can offer all the things you need within arm's reach. As Toronto cabinetry manufacturers, custom countertop makers and even chefs say, it's all a matter of placing and positioning the room furnishings and equipment that serve as design focal points and at the same time maximize space and efficiency.