Where To Find The Best Toronto Bathroom Cabinets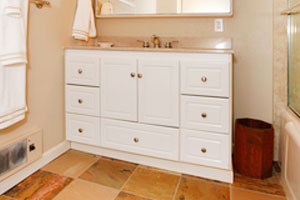 Remodeling your bathroom will likely involve replacing the old cabinets. You can find the best bathroom cabinets in Toronto at Affordable Kitchens.
The cabinets throughout your home hold your personal possessions and help to keep things neat and tidy. They go through a lot of use, so it's no wonder that the drawers start falling apart and the surfaces get scratched or gouged. Before you know it, the doors hang from the hinges and you're ready to get rid of them.
Replacing cabinets can get expensive, especially when going with custom cabinetry. There's a better way to find affordable bathroom cabinets in Toronto, and that is by coming to Affordable Kitchens.CA. Here's why.
Affordable Bathroom Cabinets
We have the beautiful, affordable bathroom cabinets you are looking for. Because we specialize in selling and installing one type of cabinet, white. This is why we can offer you the best deal. You'll find that our well-constructed cabinetry is available for at least 1/2 the cost of a big-box store. You can visit our showroom anytime to look at a selection of over 157 different cabinet sizes.
Our Bathroom Cabinets Are Well-Made
There's nothing worse than buying and installing a cheap set of cabinets that simply don't last. The cabinetry we have for sale is manufactured in Canada. They are well-made, just like custom cabinets are. The solid construction includes:
Full metal box sliding drawers
1″ thick rails
5/8″ thick bottoms & backs
Tight fitting joints
Dowel & groove construction
157 cabinet sizes
White raised-panel doors
Bathroom Cabinets & Vanities
Many times our customers enjoy doing their own bathroom remodeling, so we offer our beautiful cabinetry and vanities for sale. Whether we install them or not, we supply our customers with beautiful cabinetry and vanities for sale. Quality built, functional, and beautiful, you'll have options you're going to fall in love with!
We can help you pick out and choose your bathroom cabinets and are available for you if you wind up changing your mind and need help with the installation. Get your Toronto bathroom cabinets from Affordable Kitchens and you'll have the best options all the way around!
Come Visit Our Toronto Showroom!
You can come by anytime you like to see our gorgeous cabinets. Whether you're a homeowner or a commercial property owner, we have the excellent cabinetry you are looking for. We are open weekdays from 9-5 and Saturdays from 9-4. Please feel free to just look around or ask us for a consultation. We'll be glad to answer any questions you may have and provide you with a cost estimate for your bathroom cabinets with or without installation. You're going to love our unbeatable quality products!