Design Ideas For Kitchens With White Cabinets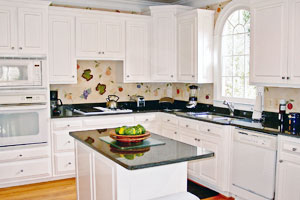 White kitchen cabinets are a very affordable option for kitchen remodeling, which is why they are so popular. However, it's easy to get stuck on designing the rest of the kitchen with all that white.
Should you paint the walls white too? Should you go with all cream? What about appliances, should you stick with white or contrast with black? And then, there's all the hardware and plumbing fixtures to choose.
Our professionals at Affordable Kitchens understand how hard this can be. In fact, we only stock white cabinets, so many of our customers have gone through the same thing. We thought we would put together a few ideas to help you work with those beautiful, but stark, white cabinets.
To Contrast Or Blend In With The White Cabinets?
What do you want your kitchen to be? If you want it to be the showpiece of your home, make the kitchen stand out by choosing contrasting color instead of blending the white cabinets into the background.
There's no telling where you are getting your cabinets from, but if they are modern white like ours -it will be easy to create a new kitchen design. Think about going with a modern red, blue, or green wall paint. Let the cabinets be the backdrop to showcase the countertops, and use color on the wall for accent.
Or if going bold is too much for you, consider designing the kitchen the easy way. Use a monochrome color scheme. Your white cabinets can be coupled with varying shades that range from white to darker gray.
If you really want the cabinets to blend into the background, install white floors and paint the walls in a pretty cream color. Choose white appliances and you're all set!
Flat Panel Cabinetry For Modern Style
Flat panel cabinets are definitely not traditional. They look smooth and modern. Many people choose to go with no hardware as well so there's one smooth wall of white cabinetry.
Think about stainless steel appliances, they are still very popular. Designers are saying that they are still a great choice for another decade. You can even get black stainless appliances with chrome details today. Stainless steel looks amazing next to white flat panel cabinets, and they are easy to keep clean.
Choosing New Countertops For White Cabinets
White shaker style cabinets look amazing with all types of countertops. For an affordable countertop option, choose a smooth shiny surface of the laminate. You won't believe the beautiful designs available today in these very durable laminate countertops. They look like real granite and marble but are much more affordable.
If you want to get fancy, consider quartz countertops. These are engineered countertops that use real quartz crystals. Think about a solid modern brown too, don't just go with granite or marble designs. You have to check out all the different red and black quartz countertops as they contrast with your white cabinets. Amazing. Call Affordable Kitchens for more information today!