5 Signs You Need To Replace Your Bathroom Cabinets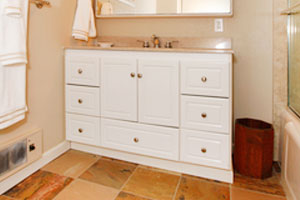 Used daily, your bathroom is one of the most important parts of your Toronto home. The daily wear and tear on your bathroom is exacerbated by the moist, humid environment that showering and bathing creates in any bathroom. Your bathroom cabinets endure a lot of stress in this environment, from sitting in warm, damp air to being opened and closed multiple times each day. If your cabinets are aging or becoming worn from years of regular use, you may need to replace your bathroom cabinets. Sometimes it can be hard to tell whether your cabinets need some maintenance or if they actually need to be replaced, but if you look closely, there are 5 warning signs that you need to replace your bathroom cabinets. If you suspect that you need new bathroom cabinets, contact the cabinet replacement experts at Affordable Kitchens to get started on your new cabinetry today!
Warping
If your cabinets seem to be warped, that could be a sign of water damage. Cabinets that are misshapen or sagging may have been warped by exposure to moisture over time. In a bathroom, water damage is more likely than most other parts of your home. Leaks, overflowing toilets, and the moist air are just some of the factors that can contribute to water damaged cabinets in your bathroom. The warped appearance of water damaged cabinetry can make your bathroom seem older and less appealing. Upgrading to new, white cabinets can refresh the space and make it more inviting. Aesthetics aside, warped, water damaged cabinets are likely beyond repair and need to be replaced as soon as possible.
Discoloration
Discoloration is often a subtle sign that your bathroom cabinets need to be replaced. Aging cabinets, particularly those that have been exposed to smoke or moisture, can become discolored over time. If your Toronto home has discolored, unattractive cabinets, upgrade to new, white, beautiful bathroom cabinets to make your bathroom feel fresh and new again. Replacing old, discolored cabinets with fresh, white cabinetry is an easy way to make your bathroom feel updated and more appealing.
Soft to Touch
If you touch your cabinets and find spots that are surprisingly soft, you have serious water damage. Water damage that is serious enough to cause soft spots in your cabinetry is almost certainly beyond repair. Cabinets with soft spots are probably on the verge of breaking down completely, so you should not delay in replacing your old, soft cabinets with new, sturdy cabinets. The cabinet replacement professionals at Affordable Kitchens will be happy to help you select affordable, quality replacement cabinets for your bathroom.
Mold or Mildew
If your bathroom smells musty like mildew or mold, inspect your cabinets. If you find any black or grey spots on your cabinets, you probably have a mold or mildew infestation in your cabinet. Mold and mildew can have negative health effects on members of your household, particularly those with asthma or allergies. Because mold and mildew are such serious health problems, you do not want to let the problem linger in your household. Call the Toronto bathroom cabinets experts at Affordable kitchens right away for help replacing your old, mildewed cabinets with a fresh, clean set.
Need More Space
Perhaps your existing bathroom cabinetry is in decent shape, but simply does not meet your household's storage needs. If that is the case, you may want to replace it with new cabinets from Affordable Kitchens. We can help you select cabinets that fit your storage needs while still working within the space your bathroom offers. The white cabinets we offer are great for brightening up your bathroom and making it feel larger than it is, so even if you sacrifice some square footage when you expand the cabinetry in your bathroom, the white coloring can help to offset the appearance of lost space.
Whether you have signs of water damage or aging cabinetry, need more storage space, or simply want to replace your bathroom cabinets with a new, attractive white set, our knowledgeable team at Affordable Kitchens will be happy to help you with all your cabinet needs. Contact us today to get started on replacing the cabinets in your Toronto home!