Welcome to Affordable Kitchens: a Whitby Kitchen Cabinets Company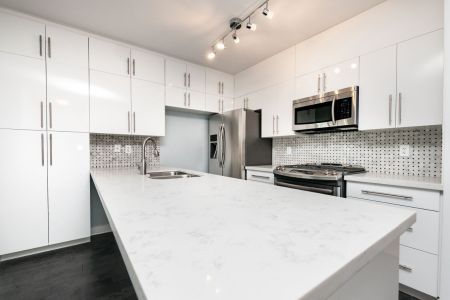 For five years Affordable Kitchens has been providing truly affordable kitchen cabinetry solutions to homeowners and commercial contractors in Whitby, ON. Our Whitby kitchen cabinets are of the highest quality construction and lowest prices you'll find in Whitby. Available in over 157 sizes and a variety of styles and cabinet door profiles, our selection of Whitby kitchen cabinets makes it easy for our clients to find the exact cabinetry they need for their kitchen remodeling projects.
One of the reasons Affordable Kitchens is able to offer such low pricing on our cabinets is because we specialize in providing white kitchen cabinets with raised-panel cabinet doors. This allows us to be extremely competitive in the industry and provide our customers with low market pricing. Often times our products are half priced comparable products you'll find at big box stores. Plus, our Whitby white kitchen cabinets are locally made in Canada, ensuring a superiorly constructed product that will provide years of use.
If you are in the market for Whitby kitchen cabinets, be sure to consider our affordable white cabinets. We are certain you'll be impressed, not only with the look and quality of our cabinets, but the truly unbeatable prices of our Whitby kitchen cabinets as well.
Affordable Kitchens – Whitby Bathroom Cabinetry
While Affordable Kitchens is know for supplying high quality white kitchen cabinets, we are also a Whitby bathroom cabinetry supplier. Our Whitby bathroom cabinetry offers full flexibility, able to fit any bathroom size or layout. We have a complete in-stock inventory, too, meaning our Whitby bathroom cabinetry is available for immediate delivery.
Some of the Benefits and Features of our Whitby Cabinets Include:
Exclusive dowel and groove construction
Superior rigid strength and tight fitting joints
Finest quality thermal foil wrapped doors
Cabinet width sizes – 9 to 42 inches [3 inch increments]
Full metal box sliding drawer systems 5/8 inch thick solid bottoms and backs
Solid 5/8 Inch cabinet backs and 1 inch thick rails for additional strength
Get superior quality cabinets that are made locally, in Canada, at a truly affordable, low market price. Call Affordable Kitchens today for your Whitby bathroom cabinetry needs.
Whitby Discount Cabinets
Our name says it all! At Affordable Kitchens you will truly find affordable cabinets for kitchens. Our cabinets are always on special, often being half the price of comparable cabinets you'll find in big box stores! You won't find a better deal on white kitchen cabinets in Whitby.
As a source for Whitby discount cabinets, we take pride in offering our residential and commercial clients superior quality products at low market prices. We can do this because we specialize in providing white kitchen cabinets. So when you need Whitby discount cabinets for your kitchen remodeling project, you know you can count on Affordable Kitchens to supply you with a quality product at an affordable price.
Whitby Kitchen Cabinets
Whitby Kitchen Cabinetry
Whitby Bathroom Cabinetry
Whitby Bathroom Cabinets
Whitby Cabinet Doors
Whitby White Cabinets
Whitby Cabinetry
Whitby Cabinets
Whitby White Kitchen Cabinets
Whitby Storage Cabinets
Whitby Discount Cabinets
Kitchen Cabinets in Whitby
Whitby Bathroom Cabinets
White cabinetry is often the perfect solution for small bathrooms or bathrooms that do not have a lot of natural light. That's because white cabinets provide a brightness that cannot be obtained by other styles or colors of Whitby bathroom cabinets.
The white of these Whitby bathroom cabinets brings a light, fresh look to the bathroom, making it seem more open and airy. This can do miracles for small bathrooms and bathrooms without windows, offering a much needed touch of light to an otherwise unattractive space.
If you are looking for white cabinets in Whitby – whether bathroom cabinets, storage cabinets or kitchen cabinetry – Affordable Kitchens is your source for Whitby white cabinets.
The Services We Provide in Whitby, ON
Recent Articles
For five years Affordable Kitchens has been providing truly affordable kitchen cabinetry solutions to homeowners and commercial contractors in Whitby, ON. Our Whitby kitchen cabinets are of the highest quality construction and lowest prices you'll find in Whitby. Available in over 157 sizes and a variety of styles and cabinet door profiles, our selection of Whitby kitchen cabinets makes it easy […]

For five years Affordable Kitchens has been providing truly affordable kitchen cabinetry solutions to homeowners and commercial contractors in Whitby, ON. Our Whitby kitchen cabinets are of the highest quality construction and lowest prices you'll find in Whitby. Available in over 157 sizes and a variety of styles and cabinet door profiles, our selection of Whitby kitchen cabinets makes it easy […]